Today Sega has brought to light their plans for the new Sonic the Hedgehog spin-off titled Sonic Boom. The initial announcement was made late last year, along with a pesky teaser image featuring the silhouettes of the redesigned characters which set the internet ablaze in both good and bad speculations.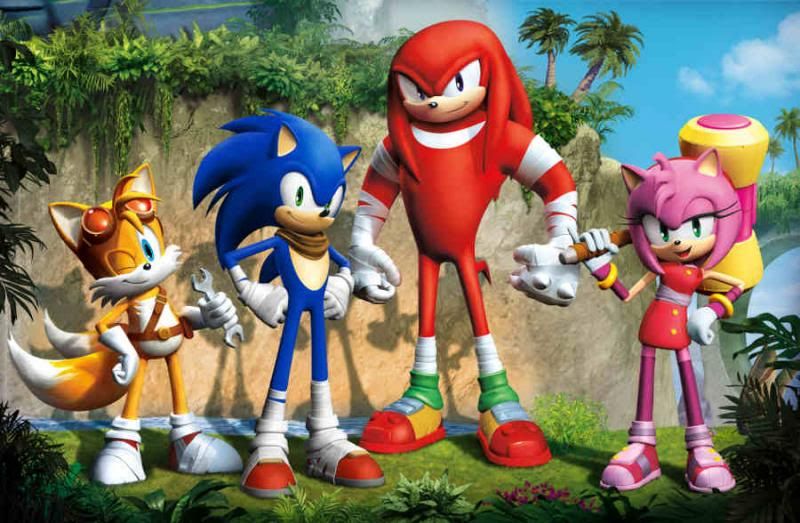 Now that the designs have been made public, as well as the plans for a TV show and Wii U/3DS games, I wanted to share my 2 cents as a long time Sonic fan.
When I first saw the teaser image, I was worried that the characters would now be wearing clothes, but as you can see the accessories they've adorned do little to distance the characters from their iconic designs. I'm actually digging Sonic's scarf. The belts and goggles go well with Tails' shift to the scientist/mechanic role we've become accustomed to since Sonic Adventure. As for Amy, she seems to sport a different outfit in every series spin-off so I was kind of expecting something like this.
The most jarring changes are obviously Sonic's blue arms and that Knuckles has doubled in height and mass. The arms I'm fine with, I mean it actually kind of makes sense if you look at a real hedgehog. Knuckles might be a little too big for my liking though. If it were toned back just a tad I would love it because I do like Knuckles as "the muscle" of the group.
I'm not sure what the deal is with the tape/bandages, mainly why they chose to wrap it around their shoes. Better traction? Who knows. It does seem a little much though. I think it works for Knuckles' look, but if they wanted to accent Sonic's hands I would have gone for some brown leather (possibly fingerless) gloves.
Those are my opinions, but I'm not really the target demographic for Sonic Boom. At least for the TV show anyway. So what does the target audience think? I showed it to my kids and they seem perfectly fine with the redesigns. They said "Knuckles looks big and cool" so he's cleared with them. After showing them the trailer for the show, I envision us religiously tuning in to new episodes of Sonic Boom as well as accumulating action figures from the toy line Sega promised. They loved it. Why do I suddenly feel even more in debt?
As for the game, Big Red Button Entertainment is leading the development of the Wii U version, while Sanzaru is working on the 3DS version. While I feel like Sonic Team has gotten Sonic back on track since Sonic Unleashed, I'm excited to hear that some western developers will be taking a crack at the franchise. It'll be interesting to see what new ideas they bring to the table.
Take a look at the trailers below and see what you think.
Sonic Boom TV series trailer:
Sonic Boom Video Game reveal trailer